I had mentioned that I had given up on the idea of making Ben a tie because I couldn't find the fabric that I wanted. Remember he wanted a tie with personality? Something Pixar-ish? Still hooked on the tie idea, I came up with this one.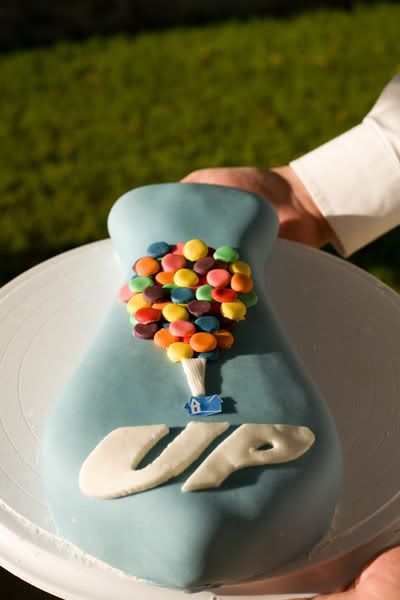 I had SO much fun making the fondant. I have to admit, it was hard work. The whole time I'm making it, I kept thinking about "Challenge" on the Food Network. My favorite is the "Cake Challenge". It just amazes me. And now that I have tried a little bit of what they do, I am in awe at what they create in just 8 hours. I think it took me 8 hours to make this one!
Thanks to my friend Kori who shared the
recipe
. Let me tell you how professional I felt. I found
this
to make a dense cake because I didn't want the cake to crumble. It was pretty cool because I just used a cake mix and added things to make it more dense. I also made buttercream icing which is a necessity when using fondant.
For the lettering, I just found it on the internet, cut it out and used it as a tracer. By the way, the only thing not edible is the house. I was trying to make it, but it was so late and I was so tired that I just put the paper one there in the end.
Things to watch out for:
When trimming the fondant, watch how close you are to the cake. There are a couple of spots that I cut it too close.
Watch your nails, they can make prints in the fondant. I think next time, I will trim my nails, just to be safe.
Will I try this again?
Most definitely.