I've been wanting to use my wheat flour to make some homemade bread for awhile now. I wrote it on my whiteboard in the kitchen hoping that I would actually do it. I even have this really cool Kitchen Mill by Blendtec, thanks to my MIL. I kept putting it off because, let's face it, it's not a quick and fast make.
Why does everything have to be fast for me?
We all know that in order to get some of the best things in life, we have to be patient and wait. And so, yesterday, I tried working on patience.
Found
this
recipe online. I like it because it's simple (simple is even it its title) and it doesn't call for ONLY wheat flour but a combination.
Simple Whole Wheat Bread

Ingredients
• 3 cups warm water (110 degrees F/45 degrees C)
• 2 (.25 ounce) packages active dry yeast
• 1/3 cup honey
• 5 cups bread flour
• 3 tablespoons butter, melted
• 1/3 cup honey
• 1 tablespoon salt
• 3 1/2 cups whole wheat flour
• 2 tablespoons butter, melted
Directions
1. In a large bowl, mix warm water, yeast, and 1/3 cup honey. Add 5 cups white bread flour, and stir to combine. Let set for 30 minutes, or until big and bubbly.
2. Mix in 3 tablespoons melted butter, 1/3 cup honey, and salt. Stir in 2 cups whole wheat flour. Flour a flat surface and knead with whole wheat flour until not real sticky - just pulling away from the counter, but still sticky to touch. This may take an additional 2 to 4 cups of whole wheat flour. Place in a greased bowl, turning once to coat the surface of the dough. Cover with a dishtowel. Let rise in a warm place until doubled.
3. Punch down, and divide into 3 loaves. Place in greased 9 x 5 inch loaf pans, and allow to rise until dough has topped the pans by one inch.
4. Bake at 350 degrees F (175 degrees C) for 25 to 30 minutes; do not overbake. Lightly brush the tops of loaves with 2 tablespoons melted butter or margarine when done to prevent crust from getting hard. Cool completely.
So glad I took the time to make it. My kids goobled it up. They really like the mini loaves that I made. The mini loaves reminded me of the Wonder minature loaves they used to hand out at the grocery store when I was a kid. Anyone out there remember that? I remember it being such a wonderful treat for me.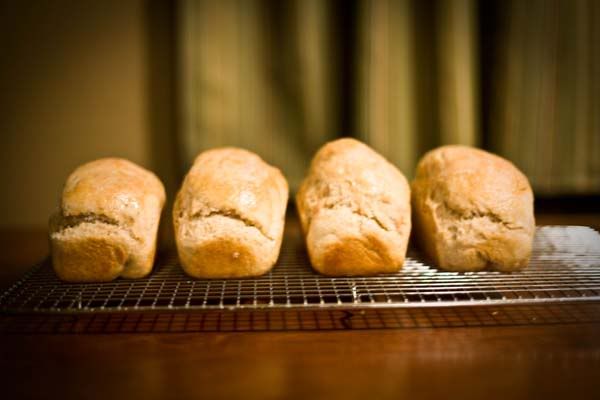 A friend asked me last night, if I make homemade bread every week. I quickly blurted out a definite, "No". In fact, it's been at least a year, maybe more, since the last time I made bread.
My mom once told me that she knew her mother loved her because she would make homemade bread every week. She must have known how much time it took for her mother to make it. The bread was made with love!
Not that you have to make bread to show your kids you love them, but I think that your kids notice your efforts.
Even when you think they don't.
They do.