My oldest daughter loves using a whiteboard while doing her homework. When I found this desk on Craigslist, for FREEEEEE, I had a great idea. I wanted to make the top of her desk a whiteboard. Of course, when I told her, she was elated!
I bought some shower board from Homedepot. It was around 11.00 I want to say. The board is huge! Anyways, we cut it down and I used gorilla glue to attach it.
I also had a great idea of using a can to make a whiteboard marker holder and eraser. I used fabric that I had left over from making the curtains. I also used some foam for the eraser on the bottom.
I'm not completely satisfied on the outcome. I was hoping for a different look. But, I think it turned out okay.
The concept on the otherhand, I think is awesome. I love the idea of having a place to put the markers and it also being the same place where the eraser is.
You just write, erase, and then. . . start all over again!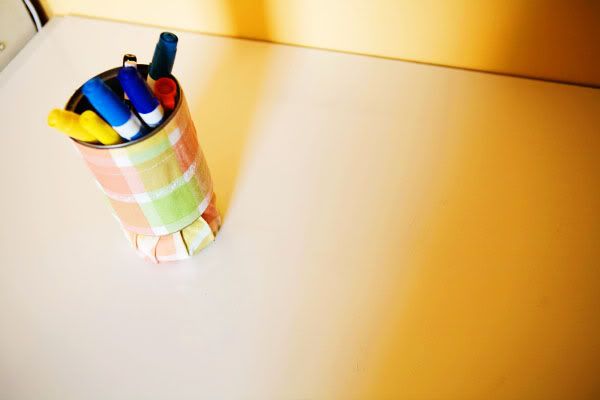 I'm getting closer and closer to finishing my daughters' room. Still on the lookout for matching bedding, desk lamp, and little accessories for the shelf, which I finally finished this week!
Yay! Almost there.