I realize I am posting this too late. Maybe I'll link back to this entry next year?? I was just thinking about gifts for the teachers and since, I just happen to have been one, I thought I could give some ideas that I have liked.
Let's start with the one I made. Very simple. In fact, that is what I wanted. Something simple and sweet and that is just what I have for you!
I bought this giant over one pound candy bar at Trader Joes. This just happens to be one of my favorite chocolate bars.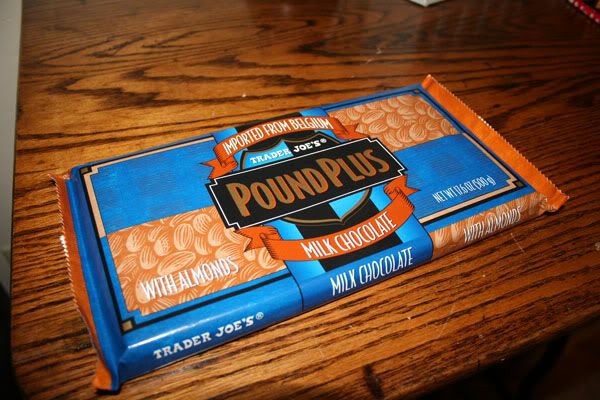 I made this wrapper in Photoshop. Of course the 8 1/2 X 11 piece of paper was too small for this giant candy bar, but I wasn't looking for perfection. I also personalized the Nutrition Facts according to the teacher. Of course everything was a 0. This was a guilt free chocolate bar! You can click on it to see it bigger.
Then a wrap a roo!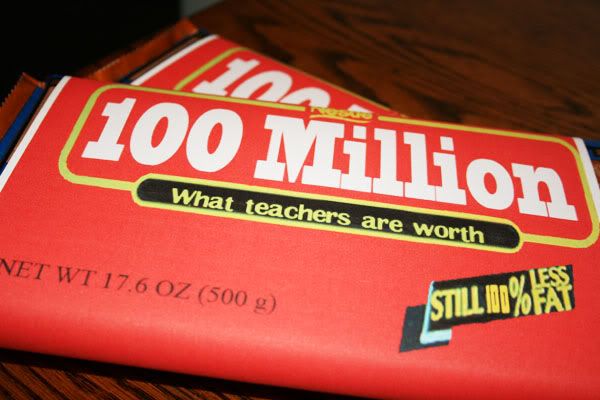 I had the kids make a card and I was done!
Okay! On to some ideas that I have loved getting from students. . .
Some of the best gifts I have received as a teacher are ones that don't remind me that I am a teacher and that I have another life!
*
Gift cards
to restaurants, Barnes and Noble, Target and Walmart, movie rentals etc.- Loved those! Then I could get something that I wanted.
*
Flowers
-I loved getting flowers! Flowers from the garden, flowers in a pot, just flowers!!!
*
Chocolates and Treats
-My husband also loved when I would get these. I also love little treats.
*Maybe if you know that your teacher has an interest such as gardening, then something that has to do with gardening would be awesome!
I also loved
things that I could USE
in my classroom.
I say
USE
because after years of getting things with apples on them that I would just sit on my desk or hang on the wall, I have to admit, the
things I could USE were more exciting.
*
Things to use like:
sight word cards, white board markers, chalk, post it notes, rubber bands, paper clips, staplers and staples, tape, highlighting tape, masking tape, really all sorts of tape!, velcro, pens and pencils, crayons, paints, paint brushes, posters, rulers, magnifying glasses, eye droppers, art material, folders, copy paper, pencil grips, dice, gluesticks, clipboards, rainy day games like puzzles. . .
the list could go on. . .
Most of those items you could
find at a dollar store!
You could spruce up a gift by making it a "theme" gift. I have many times, bought those popcorn containers and filled them with movie treats and popped in a gift certificate to a movie rental place.
Some of the best and I mean best gifts are a
homemade card from a student or a picture
that they have drawn.
So here are some ideas for next year! Next time, maybe I'll think ahead!