For my daughter's birthday party, I made my first
pinata. I wasn't going to do a pinata, because they are kinda expensive and I was trying to stay within a budget. Then my husband suggested that I make one.
Duh! Why didn't I think about that?
Ben made one last year for my son's birthday party. Go here to see how it did it. It was awesome!
Here is how I made the star pinata. . .
First, make the skeleton of the pinata. We used cardboard.
Next, I glued dry pieces of newspapers on the large gaps so the wet pieces that I would put on next would not droop down.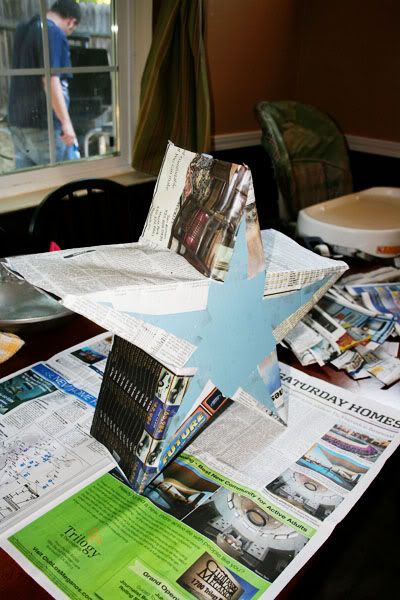 Then, paper mache it. Here is what my husband says on his blog on how to make the paste:
"For best results, I mix 1 cup of flour with enough water to make it about the consistency of white glue - then I add about half a bottle of white glue for added rigidity. I cover it with 3 full layers of newspaper. Let it dry for 24 hours -."
*On the third layer take some yarn or string and wrap it from the bottom and bring it up to the top. Paper mache over the string to secure it.
Here's what mine looked like after 3 layers. . .
You'll want to make a hole somewhere near the top.
Fill it with candy! I also like to put other things like fruit snacks, balloons, stickers, little toys etc.
Close the hole and place a strip of newspaper over top. You don't have to paper mache it, just glue it down.
Now it's time to paint it. I like to use spray paint for this job. While the paint was still wet, I added some glitter.
I hot glued some streamers on for the finishing touches!
It was so much fun to make and the kid's loved it!