My grandmother passed away Sunday, the day after Mia's birthday. She had been my only grandparent living since I was a sophmore in highschool. I wasn't very close to my grandmother but have memories of her being at many important events in my life. Graduation party, at the airport when I was leaving for college, my wedding reception and baby shower. She was a very sweet and kind woman.
I was very sad that I wasn't able to make it back to her funeral. Even though I wasn't close to her, I wanted SO much to be there for my Dad. I can't imagine losing a parent. My Dad lost his father many years ago, even before I was born. It just makes me think about how precious life is. How important it is to LIVE each day.


I was thinking about my grandmother the other day and how she is in a better place, free of pain and suffering. Amongst other problems, she was also diagnosed with cancer. I had such a "happy" feeling come about me when I pictured what it would be like to move on from this life. It brings me such comfort to know that their is life after death and that we will be able to see our loved ones again.
My Mom called me the other day and asked for a picture of all of my kids, so she could have it at the funeral home. You would think that all the pictures that I take, I would have one handy. The most recent one I had was taken in February and I thought, "That won't do." I'm so picky and kids grow so fast.
I quickly got the kids ready for a shoot and it was pushing 10:00 a.m. Not a good time "light wise", but I just had to.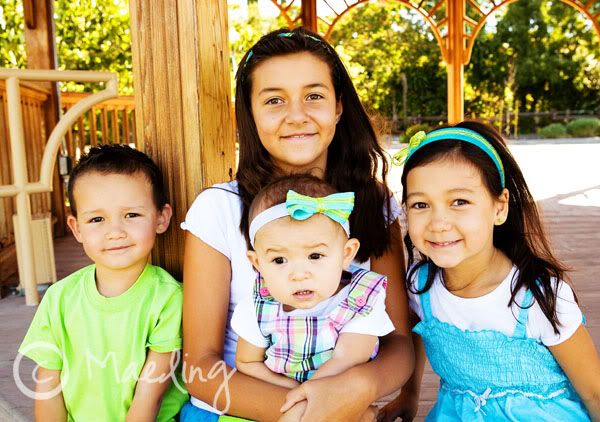 I'm glad I was able to represent our family in some way at the funeral.
Look at this goofball! She is a hoot!