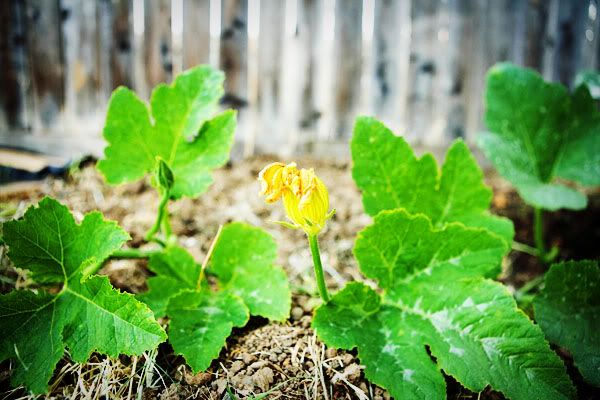 Before this year, Ben and I only had one experience with gardening. The very first year we were married, we lived in a basement apartment. It was giant. I think it is probably bigger than our house that we live in now. Anyways, the owner had a huge backyard and let us have a big section of it to plant a garden. Excited and really eager, we planted everything that we could think of.
To make a long story, short. Nothing grew and everything
died
. I was very good at killing plants.
This being our second time around, we researched a little more and narrowed our garden down to what we really wanted so we could focus our energy just on a few.
Here are the results from what we planted:
Zucchini-Turned out to be a squash plant and produce 2 little tiny squashes.
Squash-Was actually what we expected it to be and died because we didn't realize insects were eating it.
Red onions-Three grew and then stop growing and never matured.
Peas-We grew from seed and did pretty well.
Tomatoes-Grew like crazy and one of the only things that did. The cherry tomatoes did great but the regular didn't get very big. Thank goodness for the tomatoes because they gave us a little confidence.
Green Pepper-Grew one teeny tiny one. Ben called our garden the dwarf garden. Everything was minature.
Herbs (cilantro, basil majoram)-I sprouted in the house and then planted them in the garden. Once I transported them-they died.
Pumkpins-You can see from the picture above that it is still alive, although, I don't know for how long. Our other squash plants deceived us into thinking we were going to get something from them because they got huge!
As you can tell, we weren't that much better this time around, but have learned a few things to try for next year. On a side note, I was ask to give a short presentation on how you can save money in the home and garden. When they asked me, I was wondering, "Are you kidding? Is this a joke?" I gave in and promised that I would do ALOT of research, since I was not a garden pro myself.
Here are some tips from the "not so very good" gardener:
TIP#1
Find out what your sun and soil conditions are.
This was one of our mistakes. We didn't pay attention to where the sun was hitting our garden area and planted in a place that is shaded for most of the day.
Also, we should have tested our soil (you can get soil testing kits at your garden store) to see what it had in it and what nutrients it needed.
TIP#2
Make sure give your plants plenty of space.
We didn't realize that the squash plants would get so huge and planted them too close to others. That is why our green pepper plant did not grow. It was being overtaken by the giant squash plants!
TIP#3
Make sure to weed, spray, and water your plants diligently.
I think if we would have been more diligent in those areas, our garden would have been more successful.
We will be trying a garden next year for sure! I think we have learned many lessons in gardening and next year we will do better. I also think that with anything that you invest your time in, if you work hard and keep trying, you will succeed.
As for my pumpkin plant, it will definitely not produce pumpkins by Halloween, but I am still crossing my fingers that something will grow!