Don't you think it is hard to think of presents for your own Mom and Dad? Every year when birthdays and holidays come around I am reminded at how hard it really is. I feel like my brain is mush when I try to come up with ideas.
My parents aren't any help either. When I ask them what they want, they always tell me, "Nothing."
I came up with this idea of making letter blocks with pictures on them. What grandparent has too many pictures of their children and grandchildren?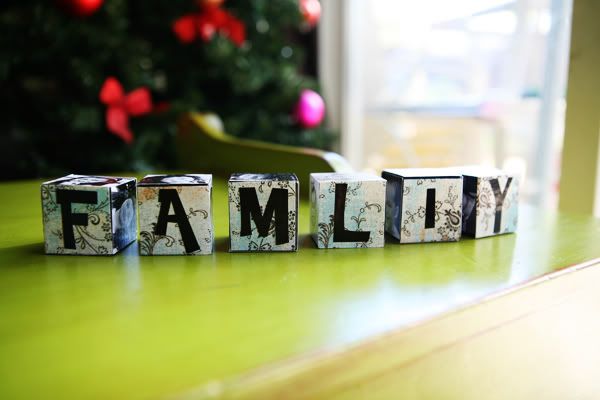 2x2 cut into cubes
Scrapbook paper
Lettering
Mod Podge
Pictures
1. Cut your blocks. A 2x2 really isn't 2x2. It's about 1.5 inches. Just take that into consideration when you are cutting the blocks.
2. Sand the blocks.
3. Resize and crop your pictures. I used Photoshop to resize and crop the pictures.
4. Using the Mod Podge, cut out squares of scrapbooking paper and place the lettering on the front of your block. Then glue on the pictures around all sides.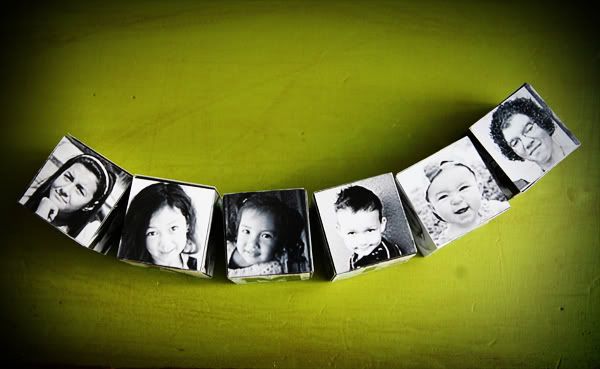 I used one block for each grandkid. Since my Mom only has 5 grandkids, I used the last block and put all of her children.
5. I then Mod Podge a layer on each side to seal the picture on.
6. I love how they stack
These were so fun to make!