My husband, Ben, loves to cook and bake on the weekend.
No complaining here. In fact, I stay out of his way and let him do his thing.
Here is the recipe:
Homemade Granola
Mix together:
10 cups oatmeal-not instant
2 cups wheat bran (buds or oats)
1 cup wheat germ
1-2 cups grape nuts for crunch
1 bag coconut
walnuts. sunflower seeds, almonds, cashews (optional)
Boil for 1 minute:
3/4 cup brown sugar (I use 1/2 cup)
1 cup oil
1 cup honey
Take off heat and add:
2-3 tsp. vanilla
Pour over oat mixture
Bake on cookie sheet
325 degrees for 15-20 minutes until golden. The longer you bake, the darker it gets.
After baked while hot, add any fruit you want (raisins, apricots, et.)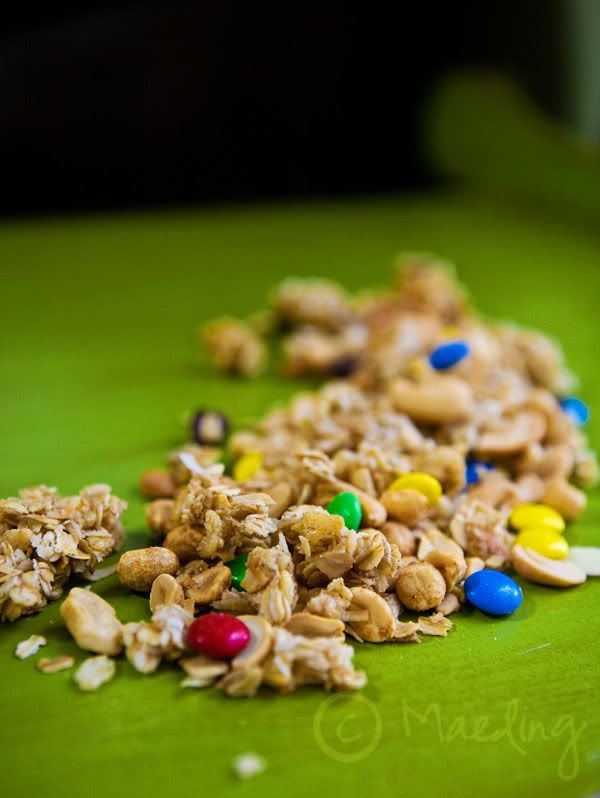 Really, you can add whatever you want and make it your own. For example, we didn't use wheat germ, grapenuts or wheat bran because we didn't have it. We've made it both with and without and it wasn't a big difference on taste for me. Although, you know when you are adding wheat germ and wheat bran, it is definitely more healthy.
In this particular mix we added some M&Ms, rice crispies, coconut, sunflower seeds, almonds, chocolate chips and cashews. We wanted to make a trail mix out of it.
We also set aside some of just the granola before we added everything in it for cereal.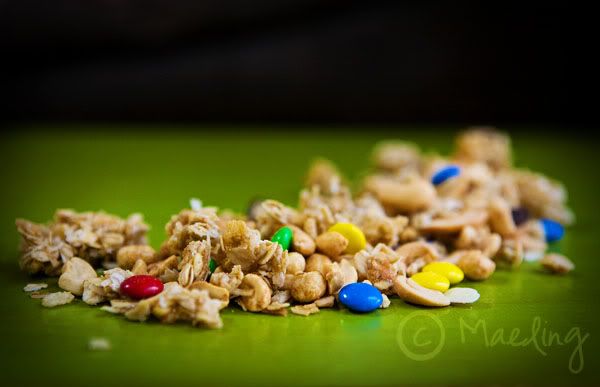 My littlest one calls it "No-la". She couldn't stop eating it while Ben was making it.
I can't stop eating it either!