My husband loves pizza! He loves pizza more than most things in life. He has pizza at least once a week and over the years has created his own pizza dough and sauce that is simply delicious.
Here's his recipe:
Ben's Pizza
Crust:
2 T sugar
1 1/2 T garlic powder
2 c luke warm water
1 T basil
1 c softened butter
2 tsp. oregano
1/4 c sugar
1 tsp.marjoram (optional)
Stir yeast, sugar and water together. Let sit for a few minutes to let the yeast get foamy and active. Put butter, sugar, and 1 cup flour into mixing bowl (kitchen aide type if you got one). Pour yeast liquid in and mix into a soup, then add seasonings. Should smell realy good about now.
Add (a cup or two at a time), 5 cups more flour and let knead. Cover and let rise 20 minutes until doubled. Roll out, then build your pizza and cook at 450 for 15-25 minutes, depending on how thick it is.
Ben's favorite toppings include: pepperoni, cheese, mushrooms, bacon, olives, artichoke hearts, green pepper, sausage.
Sauce:
1 can tomato sauce
1 T oregano
1 can diced tomato
1/2 tsp. thyme
1 tsp. black pepper
1 T minced garlic
Salt to taste.
Combine.
Yesterday while talking to a friend at church, they chatted about making a grilled pizza.
Pizza cooked on a grill? Is that even possible?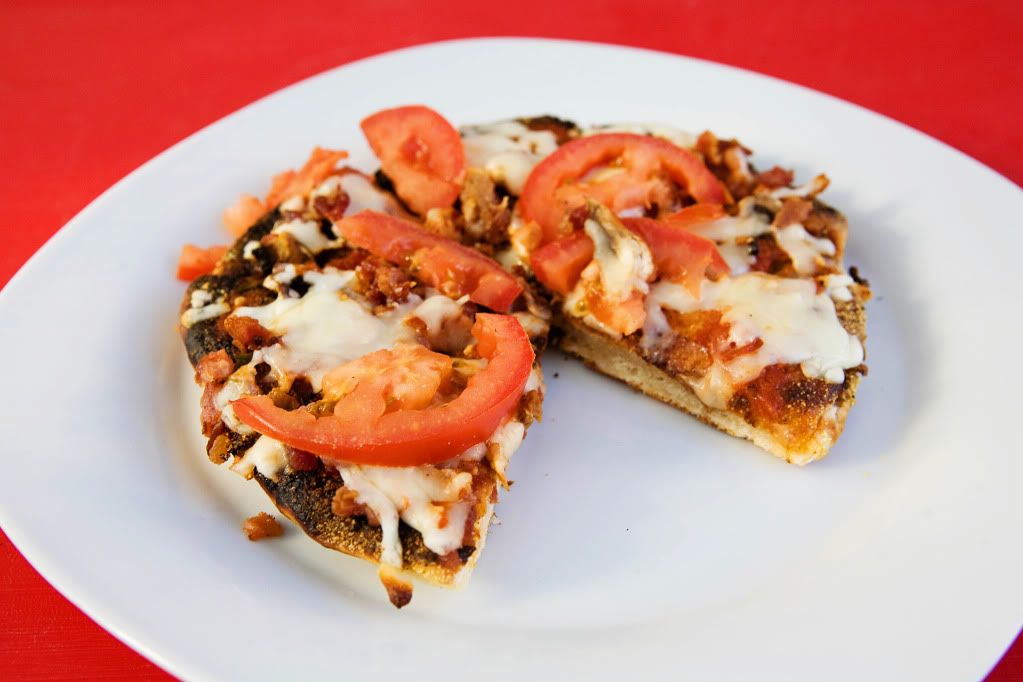 Well let me tell you that it is. Pretty simple concept.
You make the dough.
Heat the grill.
Flatten. (Ben put some cornmeal on the bottom)
Cook on one side.
Flip.
Put sauce and toppings on, be sure not to overload.
Return to grill and cook the bottom side.
And. . .
Your done!
It was especially yummy because
Ben used spices from our garden to make the sauce and dough.
It was so good and so quick! It was a perfect thing to make on a warm sunny day!