A friend approached me awhile back wanting to know if I would take pictures of the kids in her daughter's autistic classroom.
Something, I've never done as a professional photographer.
This experience caught me in my element. I love, love, love taking candids and capturing the moments as they really are.
Getting expressions that are natural and true to each child was exciting for me.
These children all very special and delightful. I got so wrapped up in their little world and was able to see things the way they do. . . for a moment.
I feel the urge to write a bit about each child because they all have touched my heart and they each deserve a little story.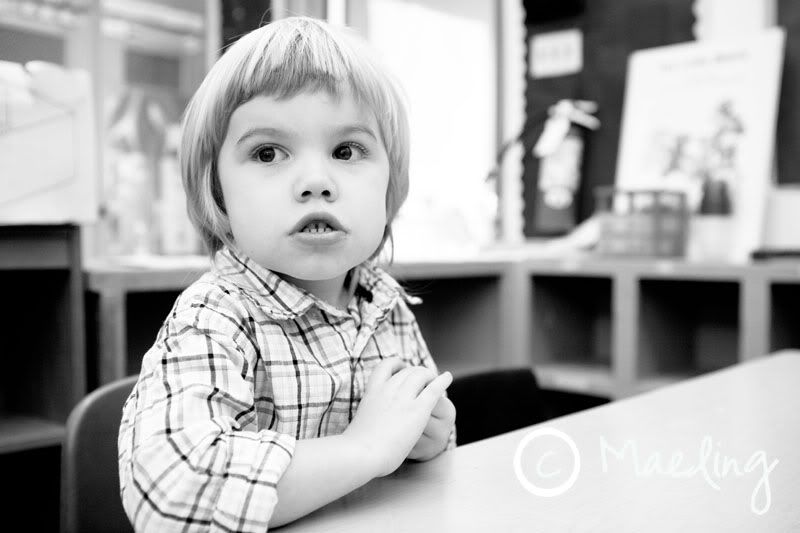 Jeremy has gorgeous hair that I am sure, all Moms with bald children are envious. Oh wait! Did I just type that? I am one of those Moms that has had a child or two that was somewhat bald until they were two.
Jeremy had a slew of facial expressions for me. At one point, he left the table he was supposed to be painting at and just walked around. Standing by this table he threw out the most funniest faces and I don't even think he saw me crouching behind the other side capturing it all.
He kinda did his own thing. I like that.
At recess, I couldn't help but to snap a few of him and his crazy hair. I have one where he is coming down the slide and the static has done wonders to his hair.
Such a sweet boy!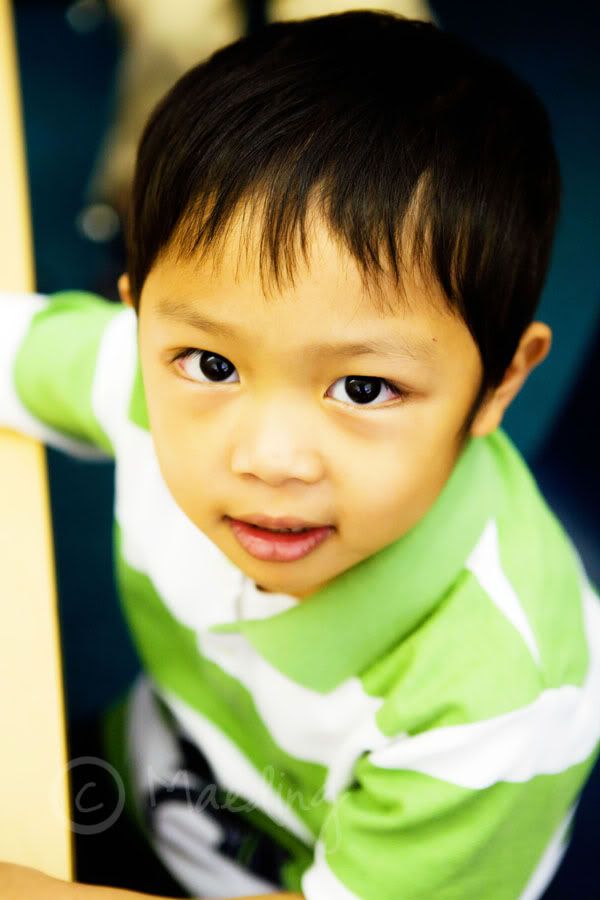 I called him, "John" the entire time I was there! My friend let me borrow her daughter's class picture and on the way to the classroom, I was memorizing there names and faces. I thought I would look so clever coming in and calling them by their names.
What I didn't know was that there was a typo on the class list and "John" was actually "Nicholas".
I have to admit, I did hear the teachers call out "Nicholas" a few times, but never clued in that they were talking to this handsome boy.
When I first walked in, I popped over to the table where he was sitting and he just turned and leaned his head on his chair and smiled at me. I love that picture. He was always smiling at me as his dark eyes twinkled.
I love the picture of him with his legs spread apart. I don't even remember that I took it until I got home and went through the pictures. It's one of my favorites!
John, oops, I mean Nicholas was darling!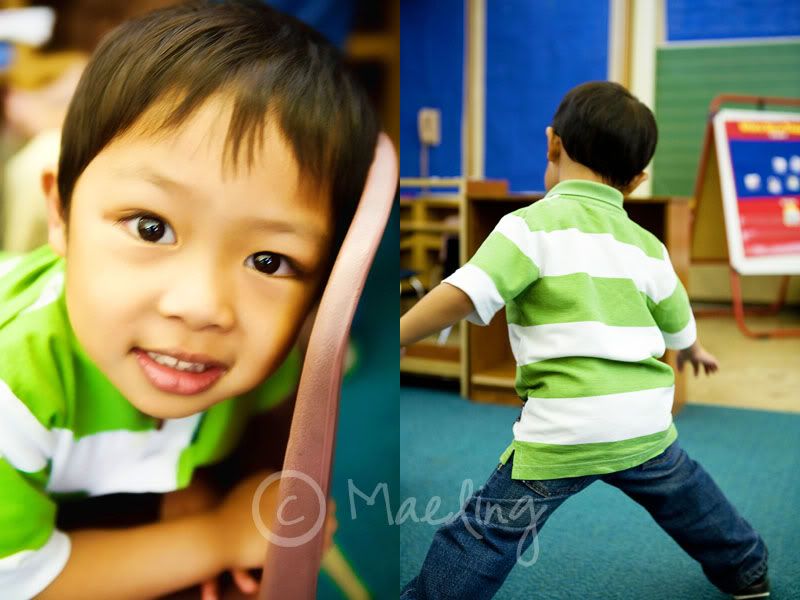 Bella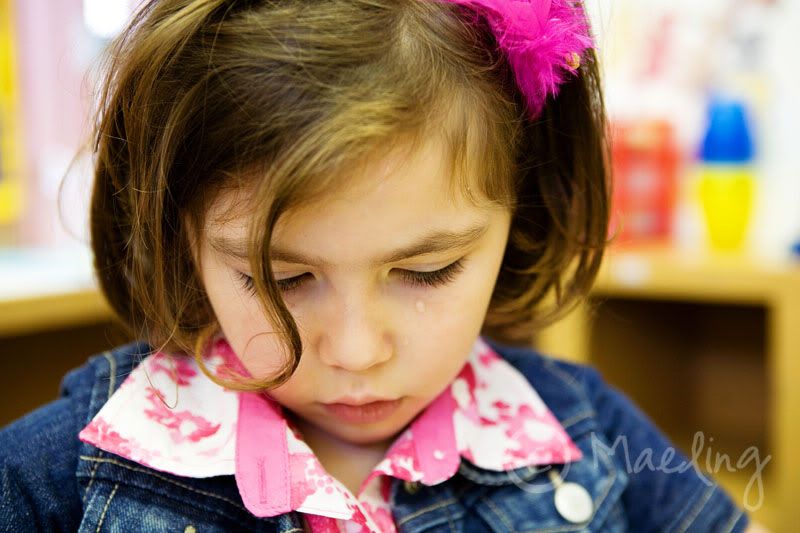 This is my favorite picture of Bella because I captured this little tear that was so persistent in staying in place for a good 5 minutes.
This was after Bella had a break down because she had a pink crayon and wanted a purple one. It was devastating to her and she couldn't sit down. Her teacher had to come and get her and take her back to her table.
Her mother, is my friend and beforehand she had talked about how she wanted me to capture everything, even the child who was crying or struggling because that is real life. Little did she know that that child was going to be hers!
I have a great crying one for you Emily!
I captured some really fun facial expressions from Miss Bella and this one below where she is strutting her stuff. She looks about ready to make her turn on the catwalk!
Her and Credence were best buds the day I visited. There are many moments where they were together reading a book or playing on the playground.
I think Bella has many boyfriends in her class. It may be safe to say she has gotten, "married" kid style, already.
I guess it helps that she is one of two girls in the entire class!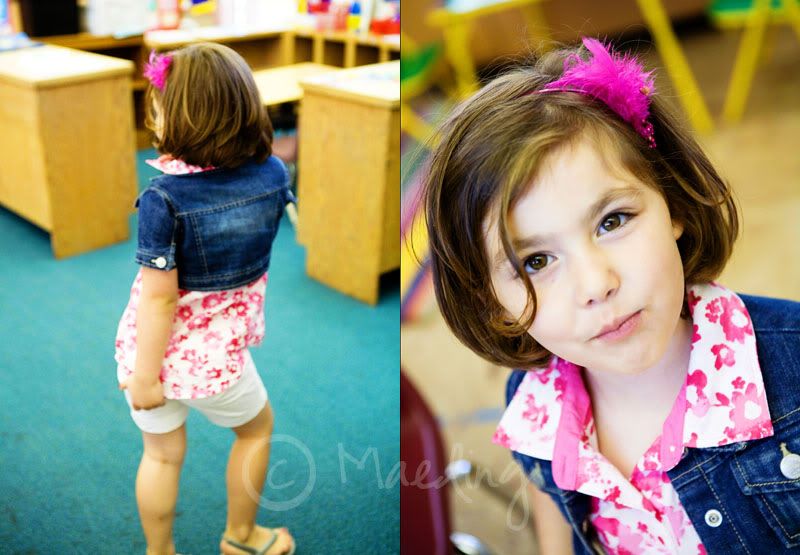 Credence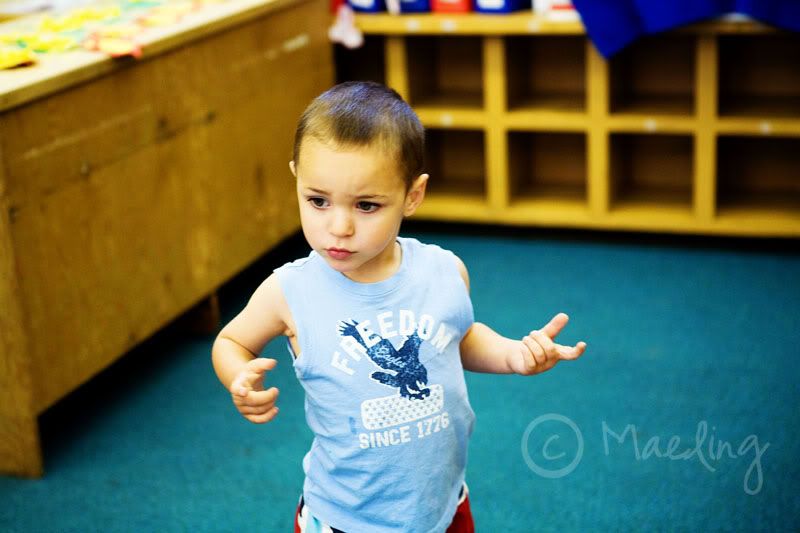 As you can tell from the picture above, this little man has style and personality. If words could be put into his mouth, it maybe something like this, "You talkin' to me?"
I almost didn't recognize him because in the class photo, he had alot more hair. I am liking the buzz, though. That's what I do to my boys at home. It's easy peezy, lemon squeezy!
Credence is very photogenic and has these gorgeous big eyes! He has very cute expressions.
At snack time, I was giggling on the inside as I watched him drink his capri sun to the very last drop. He blew it up with air and was balancing it with his straw from his mouth. Very entertaining to watch!
At recess, he and Bella were unseperatable. I have one picture of him waving his hands. He was calling, "Bella! Bella". I'm sure he wanted to show her his "sweet ride". There were oodles of cars for the kids to play with.
At one point, he hopped on the back of a bicycle Bella was riding. Bella didn't care about the extra load and toted him around the playground. Such a fun little man with a very cool name, I must add.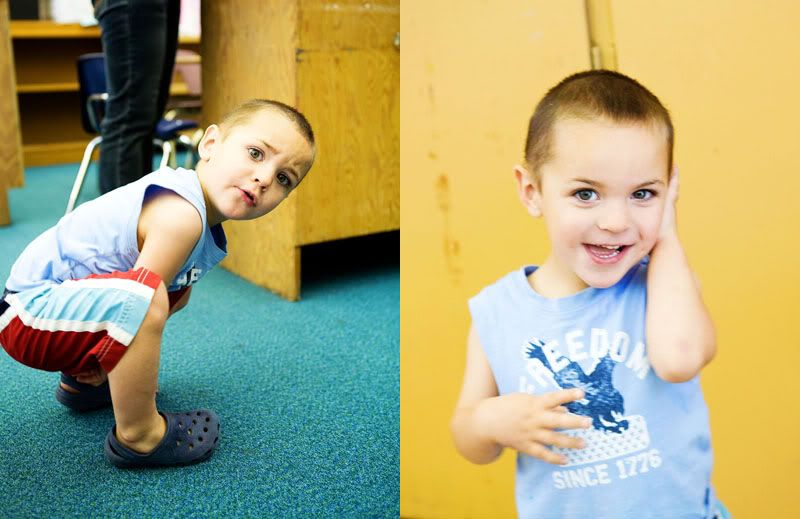 Ryan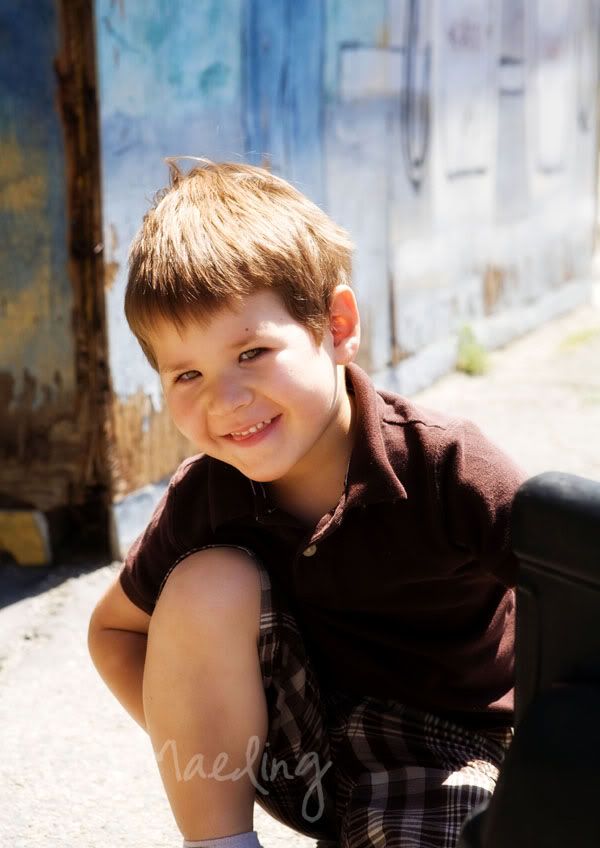 I loved this guy! Talk about someone who has a smile that can melt your heart. Everytime, I had my camera out, he would find me and turn and smile.
At the beginning, he would turn to me, smile and say, "cheese". I told him his Mommy and Daddy must take alot of pictures of him.
At recess, he pushed a police car around pretty much the entire time. Any pictures you will see of him, he is probably pushing that car, standing by the car, or squatting by the car like you see in these pictures.
Remember my bit above about him always finding me and smiling for the camera. When the kids went back to the classroom for singing time, Ryan was always looking for me and my camera. No matter where I was in the room. Behind him, on the side, he would find me and smile.
I love it! Such a happy boy!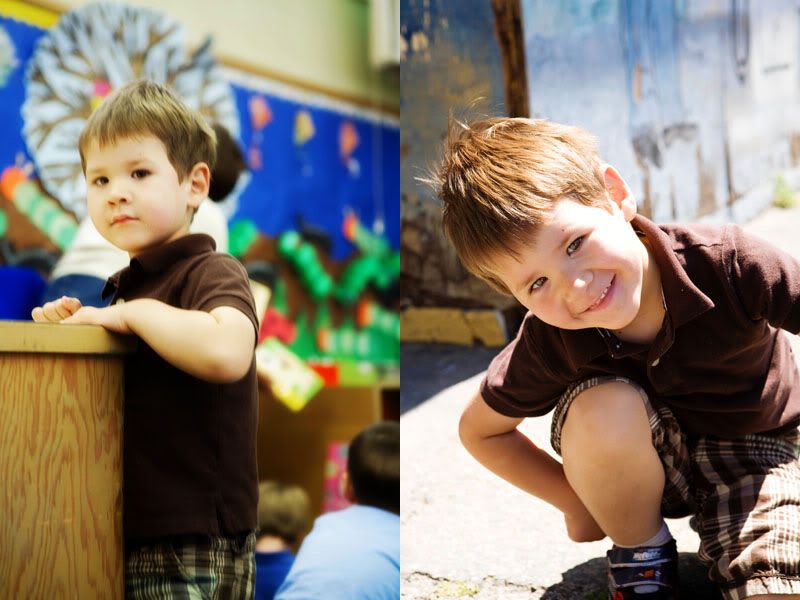 Conor is a quiet and sweet boy. I love his little mannerisms. He likes putting his hand and fingers by his mouth and does this cute thing with his tongue. Maybe he will be a professional basketball player someday and that will be his "dunking" face as he slams the ball in the hoop.
During snack time, the teacher has pictures of each of their snacks. When they want some of their snack, they must ask for it. Conor did a great job asking for his and was very clear. I think that is a great exercise for the kids to practice communicating in a real-life situation.
At recess, he loved playing on the play structure. While the other kids were playing with the cars and bikes, this little guy was perfectly content sliding down the slides.
What a great kid!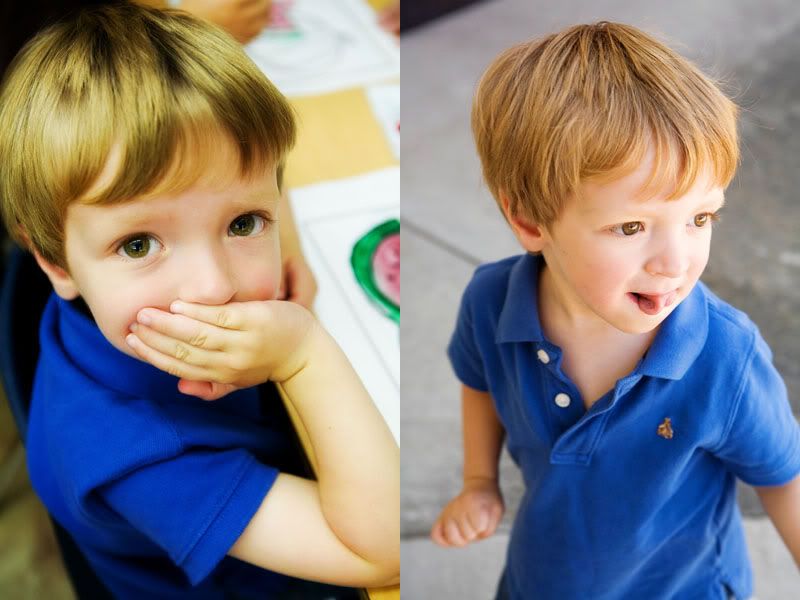 I'm grateful for the opportunity I had to spend with your children! Im sure the road has been long and rough to get to this point for all of you. You should be very proud of them, their individual accomplishments and where they are today. . .